Beef Chili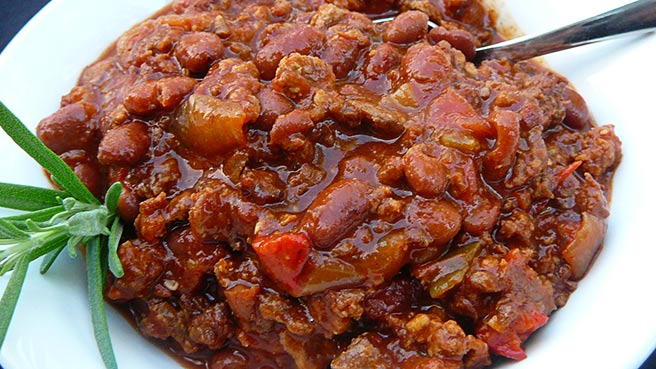 4 bay leaves
1 cinnamon stick (5cm)
1-2 dried, smoked Mexican chillies (e.g chipotle or pasilla de Oaxaca)
1.5 tbsp dried oregano
1 bottle of beer
500g-1kg tomato passata
1.5 tbsp Worcestershire sauce
2 Cans of Cooked Kidney Beans
Spice Mixture
3 tsp cumin
2 tsp coriander
1 tsp star anise
1-3 tsp chili powder depending on the desired heat
3 tsp paprika
1 tsp salt
1 tsp pepper
Hydrate the dried chillies in 200ml of warm water. Remove the stems and blend with a food processor into a thin paste.
Brown the beef in batches in vegetable or peanut oil on a high heat and set aside.
Fry diced onions the oil on a medium heat until the onions start to brown.
Add the diced bacon, celery, carrot, chillies and peppers and fry for 5 minutes.
Add the blended dried chili paste.
Add the bay leaves, cinnamon and the spice mixture.
Deglaze the bottom of the pot with the beer.
Add the the passata, the dried oregano, the Worcestershire sauce.
Cover and cook in the oven in an oven-safe pot at 150C. Alternatively, simmer on a very low heat. Cook for 3-6 hours, checking every 30 minutes to ensure there is sufficient liquid in the pot. The longer the meat is cooked, the more tender it will be.
Half an hour before serving add the cooked kidney beans and the fistful of diced fresh coriander.
Just before serving add the juice of 1 lime and season with salt, more lime juice and honey as necessary.
Serve with rice or on tortillas with grated cheese, lettuce, guacamole, sour cream/creme fraiche, fresh coriander, etc.